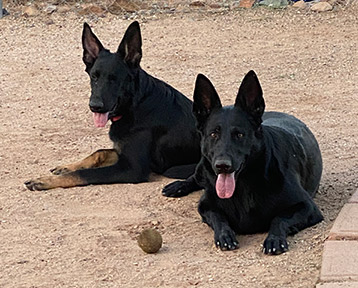 I worked hard to find Tina Lamey of War Cry German Shepherds because it was very important to me to get the perfect dog. I phoned all over the United States and probably spoke to over 100 breeders. A lot of them were only interested in the money and didn't really care what you were going to do with the puppy. Sometimes I just didn't care for their limited knowledge. Tina was concerned about where the pup was going and what I was going to do with her. She interviewed me to see what kind of owner I'd be and really cared about the dog. I also checked out Tina's reputation and found she was honored and admired by her peers, was very ethical and lives up to every word of her contract. Plus she was very kind to her dogs and trained them and got titles on them herself. I had a long list of requirements and she stood up to them all. She has always been there when I've called and really helped me with everything

- Lynda Takeda, Phoenix, Arizona

I own Critters Of The Cinema and have been using Tina Lamey's German Shepherd Dogs to do film work for me for over 25 years. Both Tina and her dogs have done very good work on the various projects from Amityville 1992 and Murder She Wrote to 90210, CSI and CSI: Miami.
I will continue to use War Cry dogs, including Tina's wolf hybrids, as needed by my clients.
- Rob Bloch
, Critters of the Cinema

I have had the pleasure of raising two of Tina's GSDs for Guide Dogs of America, Hagrid and Orion. Although neither dog decided to become a guide dog, Hagrid did complete all of his guide training. Both boys are beautiful and healthy with great hips. Hagrid is now 9.5 years old and in great health. Orion is 3 and a handsome, coated Shepherd who can't go anywhere without someone remarking, "Oh what a beautiful dog. Look at that tail." The tail is long, bushy and spectacular. And both dogs have the greatest temperament possible.
- Ann Benya,
Puppy Raiser for Guide Dogs of America

Hi Tina,

It has been about 12 years since I picked out Venus from one of your litters. I see she is still on your website. That's great to see.

Over these twelve years I have had the great privilege and blessing of having a German Shepherd companion. Together with Ellis, the Shepherd I got from the GSD Rescue soon after I got Venus, my life has been made richer, my stress level reduced, and my capacity to love and care increased tenfold. All that in addition to having thousands of laughs and amazing moments with them.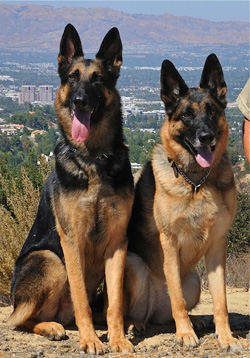 Your puppies, your philosophy, and your assistance over the years has meant a lot to me. I especially want to thank you again for spending so much time with me on the phone those first few weeks after I picked up Venus. Your patience, knowledge, advice, and love of the breed, was evident in everything you said. For that I am so sincerely thankful. It made an impact on me and it made my dogs life much easier for years to come.

Now, I use what Ellis and Venus showed me, and everything you taught me, to help new dog owners.

I was reminded of all this again a few minutes ago after another phone call from a family member who is having trouble with a puppy. It seems I am 'the guy' to whom family and friends go to for basic dog advice.

I get to experience the joy of caring for Shepherds on a part-time basis -- I volunteer at the West Side German Shepherd Rescue here in Los Angeles. All your lessons, pointers, and advice in those countless emails and phone calls is still being put to use every time I'm at the Rescue. Everything from when/how to feed the dog, to how-to-make-him-bark-on-command is still fresh in my mind.

Thank you again, for being such a positive influence in that part of my life. You are an amazing person and I am eternally grateful for everything you have done for me and the breed.

Have a wonderful Christmas, and a healthy and joyous New Year.

- Robert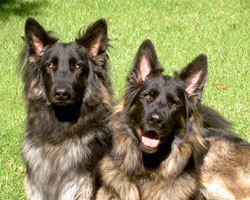 I've been lucky enough to have two War Cry GSDs, Farley and Emmett, in my life. Big, bicolor, coated boys, they both decided to change careers from Guide Dogs of America. Especially lucky for them to have found each other, true soulmates! Farley, the Hall Monitor, was gentle and sensitive, a perfect, reserved gentleman. Emmett, the Frat Boy, was sweet and accepting of everybody and everything, although if there was a party, he was in!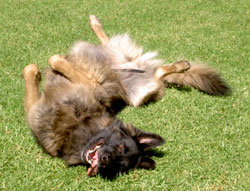 I can't say enough about their temperaments - solid, steady, loving, they were bomb proof. Children would often run up to hug them and they totally enjoyed it. My big fuzzies changed so many minds about GSDs. We couldn't walk a block without people stopping us to say they were the most beautiful dogs they'd ever seen. It was like hanging with rock stars! They were healthy all their lives, only developing age related ailments at the advanced ages of 13 and 14.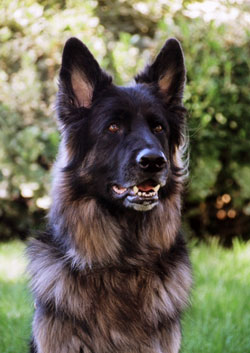 It warms my heart to think of them together again at the Bridge. Tina, thank you for your knowledge and integrity and love for breeding exceptional GSDs. And thank you Farley and Emmett for sharing your lives with me.

- Andi Krusoe

In 1998 I was lucky enough to find Tina Lamey and War Cry German Shepherds online at AOL. I was looking for a pup, and decided to give her a call, primarily because she was fairly close to my home in Southern California. During that phone call, we not only talked about the pups that were available, but how they'd been raised in a home, surrounded by humans, cats, horses (outside, of course) and the day to day noises and such that go on in a house; all in hopes of having them as well balanced as possible when they went to their "forever" homes.
I drove out with a friend to see the place and the puppies, and was even more impressed. I came home with a male pup, and named him Blue.
We called him Blue because he had a teeny tiny dollop of Blue paint on his butt put there by the breeder to tell the pups apart - and even at 8 weeks of age, he already knew his name - that he was the Blue puppy! Why change? Of all the dogs we've had here in our home, and there have been many German Shepherd Dogs over the years, Blue was "IT". He did obedience, we got two legs of his CDX, he ran Agility, played around with Rally and even herded some sheep a few times and was a staple at the local dog park. He had an incredible and full life, and was absolutely my best friend ever. Blue lived until May 1 of 2009, just over 11 years. He could have lived much longer were it not for the accident that paralyzed him and made me, through the tears, decide to send him on his way. I will probably miss him as terribly as I do now for the rest of my life. But through those years, each and EVERY year, on his birthday, Tina would call to see how he was doing and check in. I've had nine German Shepherds now, most from breeders, some from rescues. Of all those dogs, Tina was the ONLY breeder who took time to follow her pup, and showed a level of care I've not seen before. We wish her all the best, and look forward someday to perhaps bringing home another War Cry pup. It won't be Blue, but I'm sure it will be a wonderful dog.
- Lynn Malsby



My family and I have trusted Tina with the training of our dogs for over ten years. Throughout the years, Tina has worked with us and our dogs in a variety of ways - we have sent our dogs to Tina for intensive training, we've boarded our dogs with her when we've gone on vacation, and we've taken all of our dogs to her for obedience classes. (Additionally, my mother has gotten her last two dogs from Tina - great dogs!).
I had my first experience with Tina when I was in high school. It was a life-changing experience for me, to discover the value of a well-trained and respectful dog, and to discover my own assertive abilities. (Not to mention the proud feeling of accomplishment one has when walking such a dog in public!) Many years later, when I got married and adopted two puppies, I knew that not only the puppies needed training, but my husband needed training as well; so, I enrolled all of us in one of Tina's group obedience classes. In the end, we could take those two dogs anywhere and trust them in any situation, both on leash and off. We were constantly complimented for their behavior and demeanor. My husband, who had never had any dog training experience in his life, swears by Tina's methods. Those two dogs boosted our confidence, our love of the outdoors, and brought all of us closer together as a family.

When we lost one of them last year, we adopted another puppy and knew that we wanted to train her. Unfortunately, Tina had moved two hours away from us, so we auditioned several local trainers. My husband and I were very disappointed that we couldn't find a trainer as effective as Tina, anywhere.

We had one terribly wasteful experience in a local group intermediate class before I gave Tina a call and started taking the two-hour drive to train with her. I felt bad for the other dogs and their owners in that local group class, because no matter how much effort they put into their training, I knew that they just weren't being taught effectively. In short, Tina's methods work. Dogs that are trained by her, or with her methods, are the happiest, healthiest, and most well-behaved and respectful dogs that any owner could hope for. And dog owners that are trained by her are happy, confident, and proud.

- Jennifer Amaya



I have done business with War Cry German Shepherds since 1996. Tina has been wonderful to work with. In my experience, she is honest and follows through with her guarantee agreements. I have gotten German Shepherds from Tina in the past, the dogs have been beautiful and true to breed type, with outstanding temperaments. In addition, I have sent dogs to Tina's home/kennel for boarding and training. The dogs have always come back home with skills they previously did not poses and they were in fabulous condition. Tina has always loved and cared for the animals in her care and I would not hesitate to send her a dog for training and look forward to my next German Shepherd purchase!
- Peggy Proffitt
, Vom Haus Proffitt German Shepherds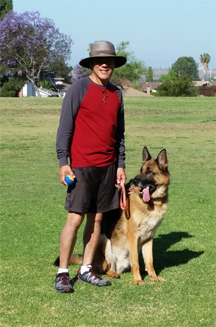 I'm a lifelong German Shepherd Dog enthusiast and have known Tina close to 30 years. Tina is one of the most conscientious and knowledgeable breeders I know. Tina simply loves animals and the German Shepherd Dog breed in particular. Her breeding program and training philosophy are testaments to her passion, commitment and dedication to learning and improving the breed.
While many GSD breeders come and go, Tina has been around since 1986 - training, showing (AKC and SV conformation) and competing in AKC obedience and the sports of Schutzhund. I have owned and currently own a War Cry German dog. I highly recommend Tina and War Cry German Shepherds for pet or working quality German Shepherd Dogs.

- Peter Lao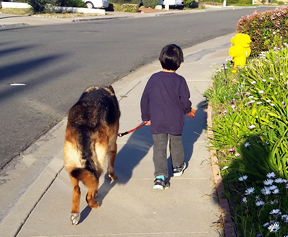 I am the proud owner of a 7 year old German Shepherd Dog we received from Tina at War Cry German Shepherds. Before picking War Cry German Shepherds, I looked hard for a responsible breeder with a stellar reputation and knowledge that goes beyond just breeding. With over 25 years of experience, Tina is very adept at not only expertly paring up dogs that produce exceptional litters, but is also thoroughly versed in training and care. Whether it comes to obtaining a healthy, intelligent, and well tempered German Shepherd Dog, or competent and caring training or boarding, I would recommend Tina and War Cry German Shepherds without any hesitation.
- Robert & Kristi

We have two black German Shepherd Dogs that we obtained from War Cry. Whenever I take them on walks, people always stop me and tell me how magnificent they are. But they are not just beautiful, they are extremely loyal, loving and trustworthy. My two (local) grandkids can step on them, pull at them or take food right out of their mouths without ever eliciting the slightest amount of aggression, yet they are very attentive watchdogs. I have no doubt that their loveable demeanor is a result of Tina's gentle and attentive nurturing. And Tina never forgets us. Every year, on the date of their birth, she calls to wish them each a Happy Birthday. I can't imagine any better place to obtain a high quality family pet.
- Charles & Kim Haftarczyk

I got my first dog from Tina 20 years ago and now have my third dog from her. Tina stands behind her dogs 100%. I can always call her with a problem or question and she always answers me. I have referred her to many friends and relatives.
- Linda Liscano

We've gotten two War Cry Shepherds - one who is now 8 years old and a pup we just received less than a year ago. Both are show quality dogs with excellent dispositions, making them ideal for a family, utility and protection. The dogs were healthy without any birth defects or other ailments.
War Cry Shepherds has an outstanding reputation for quality dogs with excellent guarantees that exceed our expectations. If you have a need to ship your puppies, War Cry Shepherds are easily shipped without any difficulties. Tina went out of her way to assist us with shipping our last puppy and the experience was completely worry free and easy to facilitate.
The owner, Tina Lamey, goes out of her way to take care of her dogs as well as her customers and we will continue to get War Cry Shepherds from her as long as she continues breeding these outstanding dogs!
- The Burgers,
Montana

I have a rare breed dog called a Peruvian Inca Orchid which is a rescue dog. I've had endless social problems with her and have had her in numerous obedience classes that were expensive I might add, with no positive results. Then my husband brought home a pit bull puppy which was not welcome by the P.I.O. and the problems escalated.
Then I met Tina and had both the dogs enrolled in her obedience class at the same time and with her methods of training, we were able for the first time EVER have the dogs under control and life at home became a much happier place. My Peruvian Inca Orchid most of all has become a more calmer, sociable, and happier dog. Most of all, Tina is very patient and fair as an instructor which makes lessons far less intimidating.
Thank you Tina! I wished I had met you sooner.
- Tami Cook

Dear Tina:
Today Aaron and I celebrate Ymas' 13th birthday. See attached photo of Ymas took this morning. Ymas is not only handsome, he is a happy GS and always has a good appetite and a good attitude. He is the "Mayer" of Huntington Beach and "Grandpa" to the puppies in our neighborhood. At his age, Ymas is still very alert and attempts to chase after cats whenever possible. He is kind and gentle who still loves to hang around with other shepherds and dogs. What great temperament Ymas has! Thanks to sticking to your good breeding principle!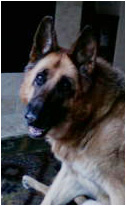 Tina, with your careful attention to the care of Ymas' parents (Inka and War) and Ymas' first 7 weeks at your house, Ymas started his life on the right track. He is a very fortunate GS. We thank you for the training, bathing, and dog sitting when he was boarded numerous times at your place. At one point, you even participated in part of Ymas' physical therapy. The list of your contribution can go on and on. We congratulate your accomplishment because Ymas certainly has been benefited by your tender loving care. And obviously we the parents were also benefited by it and can always entrust Ymas to your care 100% with no reservation when we were away.
Love,

- Bessie and Aaron

I met Tina in the year 2000, when I acquired my first GSD. He was an incredible dog from the moment I picked him up at 8 weeks old until he passed at 11 years old. Having such a wonderful experience, I contacted Tina and acquired a new puppy.
I decided to hire Tina for the training of my new puppy in the Fall of 2011, and quickly realized that most of the training was for me! Tina's expertise has been incredible. As a psychologist in private practice, I have a lot of knowledge of animal behavior, though understanding the unique complexities of a GSD has proven to be an "eye opener" with a steep learning curve. Tina's unwavering patience, encouragement, and knowledge of the breed have helped me understand my puppy, instill confidence in the process, and implement the training with a solid understanding.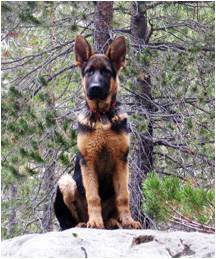 My puppy just had his first birthday. Through Tina's training, I can now take him anywhere without any problems. He walks both on and off leash in crowded areas, at parks, and on hikes in the mountains. He ignores any distractions, always heeling on my left. He loves other dogs, children, and greets any stranger with a confident, gentle disposition. I take him to work, where he stays on a down-stay command for my 1 hour sessions with patients. In turn, the patients have found it comforting to have an animal on hand that they can pet or hug if they are feeling down. At 11 months old, he passed his Canine Good Citizen test.
If you are searching for a new puppy, I would highly recommend Tina for her sound breeding practices which contribute to confident, good natured dogs. I would also highly recommend her for her training. Her prices are inexpensive and the knowledge obtained throughout the process is priceless!
- Marc Van Enk